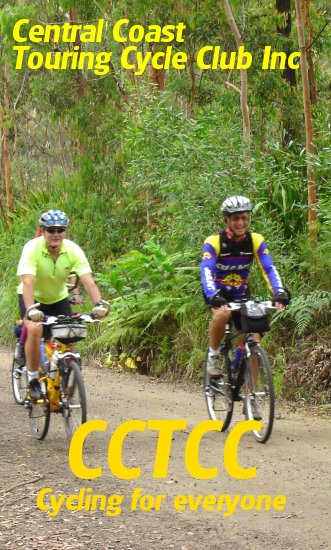 Gosford Rides Venue - Masons Pde, between swimming pool
and Yacht Club
Wyong Rides Venue - Rotary Park, River Road, next to road bridge on river edge.

The CCTCC is based in the Gosford and Wyong Shires of the Central Coast of New South Wales on the East Coast of Australia just north of Sydney. The club is a well-established group of easy-going, sociable people who meet each Sunday morning for recreational bicycle rides and to share the benefits that such a healthy pastime brings. This is not a racing club but a touring cycle club. The pace is easy or medium with stops along the way to either regroup or take in the scenery. Electric and petrol powered cycles are not permitted due to safety and legal requirements, nor are child chariots.
You don't have to be super-fit to cycle with us. We have a wide variety of rides as well as social events. Our rides are graded: easy, medium or hard. The first Sunday of the month is usually an easy ride, suitable for beginners, followed the next week by a harder road ride or mountain bike ride. The rest of the month we run rides of moderate difficulty and on the fifth Sunday we run something special.
Membership provides regular newsletters and calendars with all the details of our upcoming rides and events. Full (riding) membership costs $20, with Associate (non-riding/non-voting) membership at $5.
Click on the links above and explore what we have to offer. Reports on rides and messages from the president are under the Reports link.